Jitendra Textiles: Decorative Tessels and Art Laces Manufacturers and Exporters India
Jitendra Textiles has been servicing the decorative tassels industry for last two decades with beautiful, exquisite tassels. The company is located at Surat (Gujarat – India). We have been catering to the needs of gift floral, textiles and various other industries. Our products are available in stock for immediate delivery and are supplying our products all over the country and other countries too.
Mr. Ramanlal Korwala, the founder of the Jitendra Textiles, has a vast experience of more than a decade in this industry and has been working hard to realize his dreams of becoming a major entity in world market. Today he is being supported by Mr. Jitendrabhai Korwala, an able son of Mr. Ramanlal Korwala.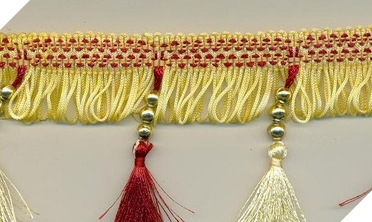 We believe in the customization of our products; we love to work with you to provide the perfect tassels and laces at the most affordable prices. Our products are known for soft luster, smooth appearance, full handle and good draping, thus becoming an obvious choice for various industries.
Our company is a labor-intensive enterprise mainly engaged in hand operation with traditional hand manufacturing techniques. The advanced making skills and outstanding design of our products have combined the expression of modern life with oriental classic temperament. We have advantages in our design, production and talents. The products with our design are fashionable and elegant in style with appropriate colors. At the same time, we have paid special attention to the quality of products and our products have favorably set up their brand image. We have the adequate infrastructure for large scale production.
We have also put emphasis on human resource construction. Our workers can fully demonstrate their ability and talent on their position, thus they have maintained cohesive trust and reliance on the company. We believe we can achieve greater success under so many advantages on product quality, internal management and human resource! Thanks to the advanced equipments, our products are various in kind and unique in craftwork and innovative designing.